If you install large drives (generally 8TB or bigger) into a tower Mac Pro or earlier iMac, there's a good chance the drive will play dead. Here is what happens, and how you can fix it.
Large HGST Drives
Some big HGST drives, especially in the He series, will not mount after a warm reboot. They mount OK after a cold boot. They are also OK after sleep, if you cold-booted. This is suspected to be a drive firmware issue affecting Macs, which HGST has not gotten around to fixing. They've apparently been told more than a year ago.
Solution:
always cold-boot when you need that HGST drive to mount.
Alternate1:
place HGST drive in an external case.
Alternate2:
submit bug report to HGST. The squeaky wheel gets greased.
Large Drives that are SATA 3.3 compliant
These drives are mostly newer HGST models at present, along with WD models that are rebadged HGST. But all future drives will eventually be affected. If you plug one of these drives into your Mac Pro, it will not spin up under any conditions. System Profiler will not detect anything in the bay.
This is caused by a change in the SATA power connection standard.
Through SATA standard 3.1, the first three pins were defined as:
Pin 1 - 3.3V power
Pin 2 - 3.3V power
Pin 3 - 3.3V power
Starting with SATA standard 3.3, they were redefined as:
Pin 1 - 3.3V power
Pin 2 - 3.3V power
Pin 3 - PWDIS (power disable mode)
Very few devices use the 3.3v rails, so when they added a new feature, they repurposed Pin 3. The new feature (power disable mode) is aimed at remote management of servers. If power is applied to Pin 3, the drive will power down. This reduces power usage when a drive is not needed. It also allows the admin to fully reboot a drive without rebooting the server.
The MacPro was designed to earlier SATA versions, and still applies 3.3v to Pin 3. So your newer HDD pretends to be a brick. HGST even
posted a PDF
explaining the problem.
Solution:
tape over Pin 3.
Alternate1:
use drive in an external case. Most cases either comply with the later SATA spec, or fail to supply 3.3V at all.
Alternate2:
use in MacPro optical drive bay, with a power adapter cord that omits the 3.3V signal. Or where you have clipped the 3.3V wire out of the cord. Caution: some non-HDD devices do use 3.3v, so don't clip your original Mac power cable. Get a power extension cable, and clip it as needed.
The tape solution allows use in the regular internal drive bays. You need some Scotch tape or similar film-like tape.
You only need to cover Pin 3, but your HDD does not use 3.3 volts at all. It is easier and more reliable to cover Pins 1-3.
Clip a bit of tape, narrow enough to cover the three pins. Alternatively, place the full tape across, then use a fine blade to slice the tape between Pins 3 and 4. Then peel away the unneeded tape from Pins 4 and up.
Use tweezers to smooth down the tape for good adhesion. Cut the excess length so it sticks out less than the pin depth. Roll the extra tape over to the underside of the connector. Use the tweezers to be sure the underside adheres.
Insert your large late-model drive into your Mac Pro and boot up. Tested successfully on two new HGST HUH721010ALE604 10TB HDDs that were affected by both of the big-drive issues.
---------------
Note that large drives have gone to a different screw-hole pattern on the bottom of the drive. The middle screw holes had to be moved back to accommodate more drive platters inside. Unfortunately, the Mac Pro drive sleds use the middle screw holes. In a pinch, you can do something ugly with string, tying an HDD temporarily to the rail.
The better answer is to order a replacement sled from Other World Computing. For Mac Pros 2009-2012 only. I haven't found a large-drive sled for Mac Pros 2006-2008.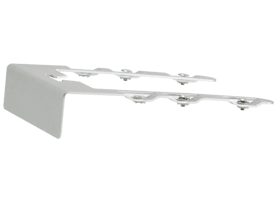 This replacement sled
has both standard and revised screw locations to mount all 3.5-inch drives.