I posted this in another thread:
FWIW, I manually cleaned out all of my font folders. This means /Library/Fonts, ~/Library/Fonts, and even /System/Library/Fonts. I create a folder called "Unused Fonts" and put the ones I don't want to use in there. However, if you have installed any Adobe or Mircosoft apps, you also need to clean out /Applications/Office/Fonts, and /Library/Application Support/Adobe/Fonts, as both Office and Adobe apps install a lot of Truetype fonts you don't need all the time. Be careful when cleaning out /Library/Application Support/Adobe/Fonts, though, as there's a folder in there called "Reqd" which Adobe apps need to launch. Make sure you leave it in.
My font set up is: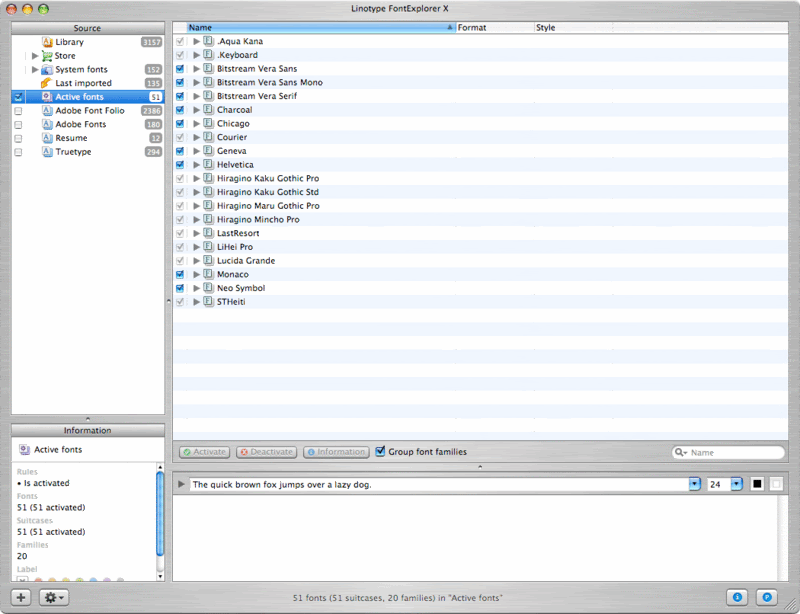 Those are the basic fonts OS X needs to work, Monaco and Geneva, cause I like them and use them, Helvetica, which Excel needs in order to run (and it's my preferred font for Safari) and the two or three fonts NeoOffice uses. Anything else I turn on and off as needed with FontExplorer X. All of the extra Truetype fonts OS X and Office install are in a set called "Truetype", and all of the fonts I cleaned out of /Library/Application Support/Adobe/Fonts are in a set called "Adobe Fonts". I can turn them on if I need to, but I almost never do.